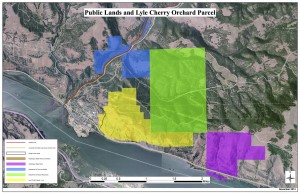 There's an open house hosted by the Friends of the Columbia Gorge regarding the idea for a community trail system out of Lyle, Washington on Dec. 11 at 5 pm at the Lyle Activity Center. The idea is part of the Towns to Trails vision put forward by Friends of the Columbia Gorge.
Here are few details:
What is the goal of the project?
The goal of the project as defined by the community planning team is to: "Develop a plan for a non-motorized multiple-use trail system that is respectful of the community, land-owners, and land managers."
Who is leading this trail planning process?
This effort is a community-led effort with community members, landowners and other stakeholders attending and participating in planning discussions. The National Park Service's Rivers, Trails and Conservation Assistance Program is providing facilitation and project management assistance. The Friends of the Columbia Gorge Land Trust, Washington Department of Natural Resources, and the Washington Department of Fish & Wildlife are participating in the effort as landowners. Other organizations participating in meetings (but not necessarily in favor of the project) include the Lyle Fire Department, Klickitat Healthy People Alliance, private business owners, adjacent landowners, and residents of the area.
Read more info: Lyle Communty Trail System FAQs (PDF)
Check out a map of the area: Lyle Trail Draft Map of Area (PDF)