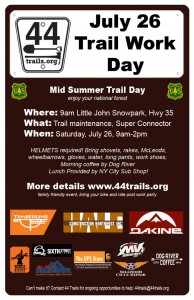 Summer is here – in case you hadn't noticed – and it's time for our second trail work day of the season.
Saturday, July 26 is the day.
Continued Super Connector tuning is the plan.
Where: 9am Little John Snopark, Hwy 35
What: Trail maintenance, Super Connector
When: Saturday, July 26, 9am-2pm
HELMETS required! Bring shovels, McLeods, metal rakes, wheelbarrows, gloves, water, long pants, work shoes.

We'll meet at the Little John SnoPark on Hwy 35 at 9am for coffee and registration. We'll shuttle up to the work site and get started. There are a variety of projects including continued trail armoring with reject and corner alignment. We'll break into two or three smaller crews on the trail.
Lunch provided by Hood River's New York City Sub Shop.
Reach out via e-mail with any questions – 44trails (at) 44trails.org