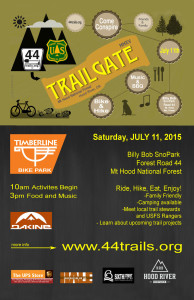 OK 44 Zone aficionados, the Trailgate event on Saturday, July 11, 2015 is less than two months away!
What is Trailgate you ask? It's a day to celebrate and enjoy the fine single track trails accessible from Forest Road 44 on the Mt. Hood National Forest. There's plenty of great riding and hiking to be had from the Billy Bob SnoPark, including great rides for all abilities, even kids! There's even some killer road/gravel grinders to be had in the 44 zone.
We will be staging from the Billy Bob SnoPark located about 10 miles east of highway 35 on FR44. You can also get there from the east side out of Dufur. There's plenty of great camping available at Eight-Mile and Fifteen-Mile campgrounds as well as other dispersed camping in the area.
Come on by at 10am on Saturday to check in on ride options, learn more about 44 Trails Association, meet local USFS rangers and to check out demo bikes from Hood River Bicycles (Yeti, Pivot, Giant, Santa Cruz and more).
Once you've been out to enjoy the trails come on back at 3pm to enjoy food, drink (free) and music. We've lined up Hood River-based band, Cripple Hop, for a some great live music. Timberline Lodge is setting up the food service and 44 Trails Association will have info about upcoming projects. We'll have a raffle with some great swag, too!
if you are looking for an epic ride on July 11th, check out the Oregon Endurance Mt. Hood Classic ride planned for the same day and come by Billy Bob when your done!
Sign up for our e-mail list to get the latest info on and an event reminder for Trailgate!