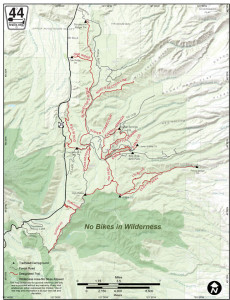 We recently completed a digital map of the 44 Trails area that is designed for use on your mobile device. The geo-referenced PDF is viewed with the free Avenza PDF Map App (available for iPhone, Android and Windows phones). The map shows your location, offers your coordinates and allows you to navigate.
At this point, we'll call it a beta version of the map, as we have not been able to check every trail. Think of it as a good general reference.
You can get your free copy of the map by signing up for our e-mail list. Once you sign up, you'll get an e-mail that includes a download link for the map.
How to get the free 44 Trails Mobile Map:
1. Download the Avenza Map App (free) on your mobile device.
2. Sign up for our mailing list and a link to download the 44 Trails map will be sent to you.
3. Open 44 Trails map with Avenza on your device
The map is for general reference only and is provided without a warranty of any kind, either expressed or implied. Use of this map is at your own risk and discretion.
Sign up for our mailing list to receive the 44 Trails Map for free!