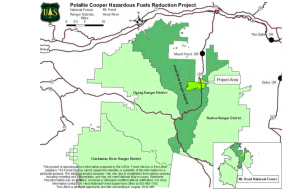 In case you were not aware, the Forest Service is preparing a longterm timber / fuels reduction plan, aka a Timber Sale, for what is called the Polallie Cooper area on the east side of Mt Hood.
The Environmental Assessment (EA) for the Polallie-Cooper Timber Sale was released recently and the public comment period ends on February 25, 2016.. 
You can download and view a pdf copy of the Polallie-Cooper EA here. It's a long (300+page) document, but one of the critical concerns to 44 Trails is the USFS proposal to move ahead with a 55-foot buffer on either side of trails that fall within the timber sale. This means cutting to within 55 feet of either side of existing trails.
44 Trails Association, among other groups involved in a collaborative process before the EA was completed, suggested a 100-foot buffer (on each side) be used. The idea behind our 100-foot per side recommendation is to preserve the quality of the trail user experience as much as possible. The trail user experience being based on forest quality and trail/tread quality, both of which, we believe, are directly related to forest canopy where more forest canopy equals a better experience and better tread quality/durability.
Of the trails impacted by the proposal, the Dog River Trail (#675) is the highest profile within the mountain bike community. Not only, could the proposal result in cutting within 55 feet of the trail, it will surely impact the trail with extended closures while the work is being done.
There is a public meeting on Weds., Feb. 10 from 5 to 7 pm at the Hood River fire station in next to the pool in Hood River. We hope to see you there.
This is an important opportunity to let the Hood River Ranger District hear your opinion of the proposal.
You can also submit written comments to the Forest Service, by February 25th, your opinion could help preserve the riding experience on the Dog River Trail and beyond into the future.
To comment or to learn more
contact: Casey Gatz – Interdisciplinary Team Leader
(541) 352-1255 cgatz@fs.fed.us
www.fs.usda.gov/projects/ mthood/landmanagement/projects
Download Polallie Cooper Timber Sale Environmental Assessment