The Surveyor's Ridge Reroute Continues!
A segment of the Surveyor's Ridge Trail #688 will be impacted by the City of The Dalles Watershed Pipeline replacement project. The vintage pipeline providing water to the City of The Dalles is being replaced with a modern version. A portion of the pipeline is adjacent to or beneath the south end of the Surveyors Ridge Trail. The pipeline project will permanently change the trail corridor in these locations -creating a 25 foot wide corridor with aggregate placed along the right-of-way.
We re working on a re-route of the Surveyor's Ridge trail where it follows the pipeline to maintain a semi-primitive trail experience. The reroute also improves interconnectivity of trails in the vicinity by connecting with the Super Connector and will provide a short loop for beginner riders who want a shorter trail experience than Surveyors Ridge. READ MORE about the Surveyor's Ridge Reroute Project and check out project map.
Trail Work Day – Surveyor's Ridge Reroute Project
We will working on the Surveyor's reroute doing the initial clearing and rough-in work that will establish the new route.
REQUIRE EQUIPMENT:
Hardhats (bike helmets ok), long pants, work gloves and work boots, water. 
WHEN: 
Saturday, August 12, 2017 @ 9am – 2pm (plenty of time for a post-work-project ride)
Meet 9am @ Little John SnoPark on Highway 35
We'll have coffee thanks to Dog River Coffee in HR and sign-in at the SnoPark and then move up to the work site as a group. Lunch will be provided by NY City Subs in Hood River.
PROJECT:
Handbuilt singletrack on Surveyor's ridge re-route. We will be doing rough in and route trimming/clearing.
TOOLS: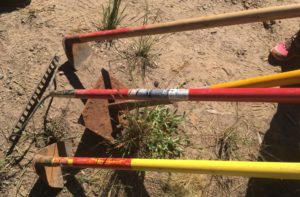 Helmet/hardhat (bike helmets ok), long pants, gloves, and work boots required.
Hand tools only – Pruning Saws, Flat Shovels, McCleods, Loppers, Metal Rakes (NO chainsaws please).
It gets warm up there – please be sure to bring water and sunscreen.